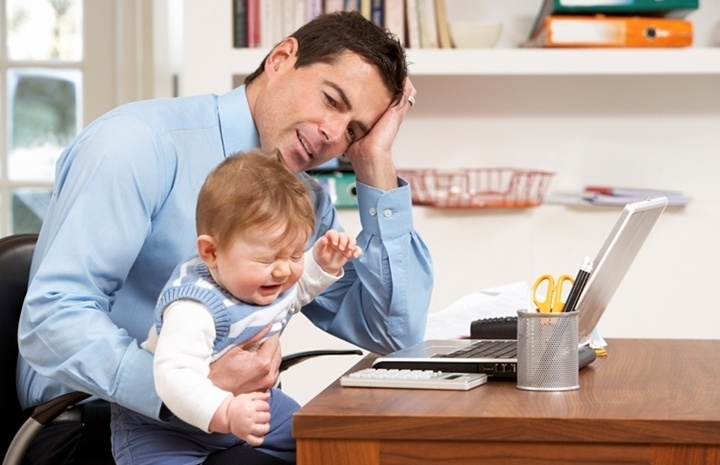 While the first few months of your baby's life are a wonderful time, it can also cause some anxiety and stress for you as new parents. There is so much to learn about and you are kept very busy with the frequent feed and sleep routine that your newborn will have.
This simple guide to newborn care will help reduce your stress levels:
1. Keep yourself healthy ‒
During the first few months of your newborn's life, both your attention is often solely focused on the baby. Don't sacrifice your health while devoting yourself to your newborn! Make sure you spend time on your own needs — get adequate rest, eat well, stay hydrated and exercise. If you don't maintain your health, you may burn-out or become ill.
2. Define boundaries for the relatives ‒ There is usually an influx of relatives coming to visit after the arrival of a newborn baby. Make sure they understand that you and your baby need a lot of rest during the first few months and visits must be pre-arranged.
3. Use your support network ‒ Ask your relatives and friends for help when you need it. They might be able to help you look after the baby or do some house chores. Don't be afraid to ask for help, it can greatly relieve any stress you are feeling.
Related Post: 5 Ways Dads Can Support Their Wife after Having a Baby
4. Try deep breathing exercises ‒ When a person is stressed their breathing is usually fast and shallow. Consciously alter your breathing patterns to help relieve some stress. 10 minutes of deep breathing is all it takes to relax.
5. Use music to help you relax ‒ Music is a great way to relieve stress and anxiety. Some types of music can also help soothe a crying baby!
6. Meditation ‒ Meditation has been proven to reduce stress and can be performed in as little as 10 or 15 minutes. When you have just put your baby down for a sleep, instead of popping the television on, meditate for a short while.
7. Prepare for many emotions ‒ After delivering a baby, your body is simultaneously dealing with trauma and undergoing changes. Hormones are rapidly rising and falling, which can lead to some unusual emotions. Don't be surprised to feel both sad and happy within the space of a few minutes! By being prepared for a wide array of emotions and identifying them as hormone related, you can reduce your stress.
8. Get out of the house ‒ After a few weeks of looking after your newborn, it may feel like you are stuck in the same routine every day. Plan some getaways to break up the routine. Going to the park or a coffee shop can really help reduce your stress levels and is a great way to exercise.
9. Progressive relaxation techniques ‒ Progressive relaxation involves sequentially tensing and relaxing the muscles in your body. Start with the toes and work your way up to your scalp. It can be a great stress reliever and can be performed any time.
10. Don't "over schedule" ‒ When you have a newborn, things can get very chaotic and it is difficult to pre-plan anything. Try to limit the number of pre-arranged events you have and instead just go with the flow.
11. Stop being a clean freak ‒ If you normally keep your home impeccably clean, make a deal with yourself to cut some slack around the house for the first few months. You will be extremely busy just looking after the new addition to the family, so don't stress about not having a pristinely clean home.
12. Maintain your relationships ‒ Even though you will be extremely busy during this period, try and make time for your other loved ones including your partner. Talking with family and friends also helps you discuss any concerns and frustrations.
13. Ask medical professionals for advice ‒ One of the most stressful parts of having a newborn is the uncertainty of feeding and sleeping patterns. If you have any concerns about their health, ask a medical professional. There is no such thing as a silly question!
14. Understand that breastfeeding doesn't always work – One of the most common concerns for new mothers is breastfeeding. They may be finding it extremely difficult and painful or they are concerned that their child is getting enough to drink. Some mothers simply don't produce enough milk. Don't feel compelled to breastfeed your child if it is a constant source of stress and worry.
15. Look after your marriage – A new born baby can help improve the relationship between couples, but it can also add stress. Don't forget to devote some time to looking after each other during this period and talk about things other than the baby!
16. Postpone other projects – If you are involved in other projects that cause stress or require a lot of time, postpone them for a few months. The newborn will take a huge amount of time and scheduling in other large projects will be difficult.
17. Create a parental plan – In the months before the baby has arrived, devise a plan for handling issues relating to the newborn. Establish ground rules for relative visits, talk about how you will be feeding your newborn (breast or bottle) and discuss sleeping arrangements. The plan will help you reduce the number of uncertainties, which cause stress.
18. Write it all down – Put aside some time to write a journal that records your newborn's routine. The journal can be useful for alleviating concerns about sleeping and eating behaviour of your child.
Practical Guide to Newborn Care:
Part 1: Guide to Newborn Sleeping
Part 2: Guide to Newborn Feeding
Part 3: Guide to Newborn Crying
Part 4: Guide Newborn Bathing
FREE DOWNLOAD: Sleep Guide for Newborns & Toddlers eBook
{{cta('6e355ee0-7da2-465a-a182-751f0cf1e3eb')}}