CellsPlus powered by TotiCyte Technology ―
a new blood separation technology exclusive to Cells4Life!
CellsPlus powered by TotiCyte Technology ―
a new blood separation technology exclusive to Cells4Life!

TotiCyte is a ground-breaking new cord blood separation technology approved by the Human Tissue Authority (HTA) that removes 99% of the red cells in cord blood, based on a precise dilution of two solutions ‒ DMSO & Dextran ‒ which are universally used in cord blood banking and wider blood therapy arena.
TotiCyte is the highest performing cord blood processing system in the world, patented and is exclusive to Cells4Life — no other cord blood banks use the same technology. This new technology delivers 3 times more viable stem cells post thaw than any other cord blood processing technology.
This peer-reviewed publication demonstrates that TotiCyte delivers 3 times more cells at the point of treatment compared to standard industry methods.

1) TotiCyte causes the red blood cells to sediment, leaving the stem cells and all other cell types, suspended in plasma.
2) The plasma and stem cells are expressed into the next processing bag, leaving 99% of the red cells behind.
3) The plasma and stem cells are gently centrifuged, which causes a layer ('buffy coat') of stem cells to form at the bottom of the plasma.
4) The excess plasma is removed leaving 25ml stem cell sample, which can be divided into multiple units prior to storage.
Why choose CellsPlus powered by TotiCyte?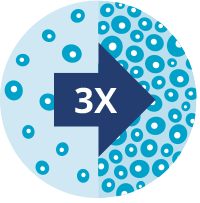 Highest cell recovery
TotiCyte delivers 3X more viable cells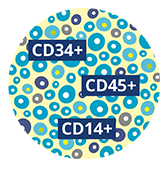 More cell types
TotiCyte delivers more types of cells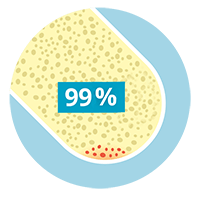 99% red cell removal
TotiCyte removes more red blood cells
Cells4Life ASA Ruling: About Our Marketing Claims
You may have heard about the Cells4Life ASA (Advertising Standards Authority) ruling on some claims we make in our marketing materials. Specifically, the claim that our TotiCyte processing method preserves 3 times more stem cells than our competitor's systems, based on extensive comparative testing of TotiCyte's performance against the machines our competitors use.
» Maximum cell count
With CellsPlus, you will have 3 times more cells at the point of treatment than any other cord blood storage service. TotiCyte maximises cell count before it is frozen and more importantly, once it is thawed for transplant use.
» Multiple treatments
The more cells you have stored, the more transplants can be done. CellsPlus cord blood samples are stored in up to 6 subdivisions so you can use just a portion of the cord blood as required and keep the rest stored until needed for transplant. We also store the cord blood in two separate geographic locations in the UK for more security.
» Therapies & body weight
For many transplants, the total number of cells needed is linked to the patient's body weight. As your baby grows into an adult, more stem cells will be required for transplant. By choosing CellsPlus, your baby's cord blood sample will be useful throughout their whole life, not just in childhood.
TotiCyte has been subject to extensive head-to-head testing against other cord blood processing systems currently available in the UK, Europe and the USA, and was found to perform between 2.2 and 3 times better for viable CD34+ (stem cells) recovery at the point of therapy. These experiments are detailed in a published, peer-reviewed paper, the results of which are summarised below.
The study compared the relative viable cell recovery of CD34+ cells (cord blood stem cells) from cord blood samples processed using TotiCyte (CellsPlus), AXP, HES, the MacroPress Smart and Sepax 2. These are the main systems currently available in the UK, Europe and US.
Post-processing recovery – the number of viable cells that are found after the cord has been processed but before it has been cryopreserved.
As you can see, all the methods provide broadly equivalent recoveries of stem cells pre-freeze.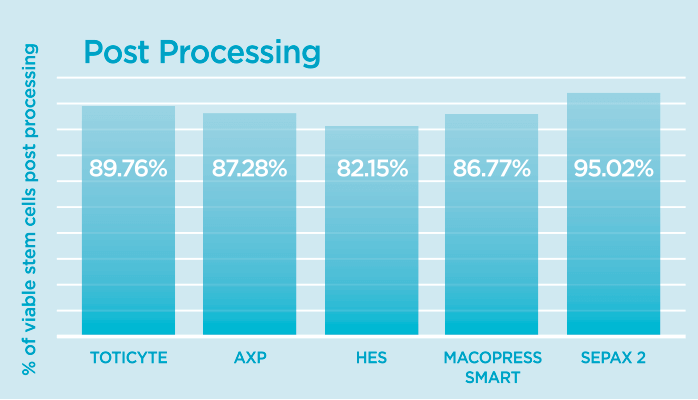 Post-thaw recovery – the number of viable cells found after the cord blood has been thawed and is ready for therapy.
After cord blood processing, TotiCyte recovers more stem cells than the other methods!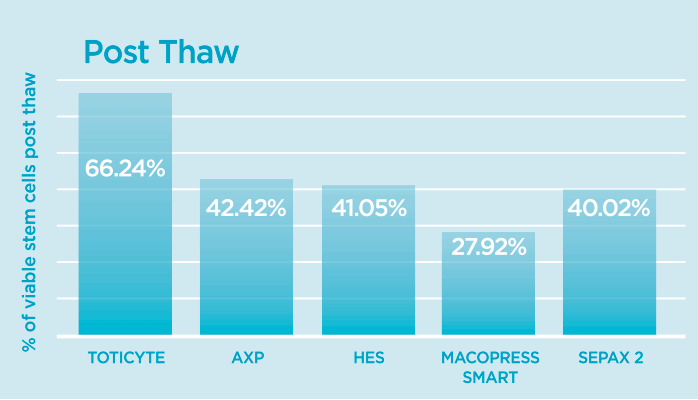 The number of stem cells recovered post-thaw is very important, since this will be the total amount of stem cells available for treatment after the cord blood sample is processed, frozen and finally prepared for treatment.
Upon thawing the study found that TotiCyte retained 66% of the CD34+ population of cells, compared to 42% for the AXP, 41% for HES, 38% for MacroPress and 40% for the Sepax 2.
» Improved blood type compatibility
Your baby's stem cells are 100% match to them both at a cellular level and in terms of blood type. However, if the sample stored will be used for other family members, they will have to be checked for compatibility first.
For example, a sibling might have a 75% chance of being compatible at a cellular level but might not be a match in blood type. In this case, the sample stored will have to be 'washed' to remove the red cells to below 5% of the volume before the treatment, in order to reduce the risk of potentially life-threatening transfusion reaction. But the washing process will also remove some of the important stem cells therefore reducing the chance of a successful engraftment and the size of person that the sample can treat.
With CellsPlus, your baby's cord blood sample is ready for treatment no matter what is the blood type of the patient.
Because 99% of red cells are removed using TotiCyte, there is no need to wash the cells before the transplant therefore preventing the loss of many important stem cells.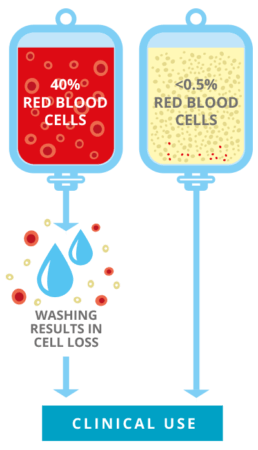 » More cell types are stored
Aside from stem cells, TotiCyte Technology also preserves many rare and primitive cell types e.g. Very Small Embryonic-Like stem cells (VSELs), within the cord blood sample that will be most important for therapies in the future. By choosing CellsPlus, your child is prepared for whatever cord blood therapies may arise during their lifetime.
Well informed and well organised team. Explains everything in detail and guides you through entire process. Keeps in touch through emails and regular updates. Keeps you informed about developments in the usage of Cord Blood and what Innovations or researchers are working on. One stop shop for Cord Blood info.
The process with Darryn and his team was so easy and flawless that when it came to collection it went of without a hitch. Highly recommend as the best company to go with.
Best investment and insurance for the family. Nobody should miss out on the opportunity to leverage the future potential of science. Stem cells already has great benefits now but there is surely more to come every year that lies ahead.
So happy we chose them to store our newborn at the time! Detailed information and support given before and after the collection; personalized follow-up letters and emails. The experience made us feel that our baby's u cord and stem cells are in safe and professional 'hands'.