Volume-Reduced Cord Blood Storage
The Cells4Life Volume-reduced cord blood storage, is similar to what many other umbilical cord stem cell storage providers in the Middle East offer, but with many very important benefits. Our Volume-reduced cord blood storage focuses on extracting the maximum number of haematopoietic stem cells (HSCs) from the umbilical cord blood.
Cells4Life's automated, computer-controlled processing system delivers the highest published cell recovery rates in the industry: 96%. Other processing methods for volume-reduced cord blood storage have been shown to recover only 81% of cells.
CELLS4LIFE SERVICES COMPARISON
One of the most important aspects in cord blood transplantation is the volume of viable cells at the time of transfusion. AXP Technology saves 96% of cells following the cell extraction method.
This extraction method is also adopted by the New York Blood Bank as well as other cord blood banks around the world.
More umbilical cord stem cells are a key clinical parameter that physicians use to identify if a sample can be used in therapy.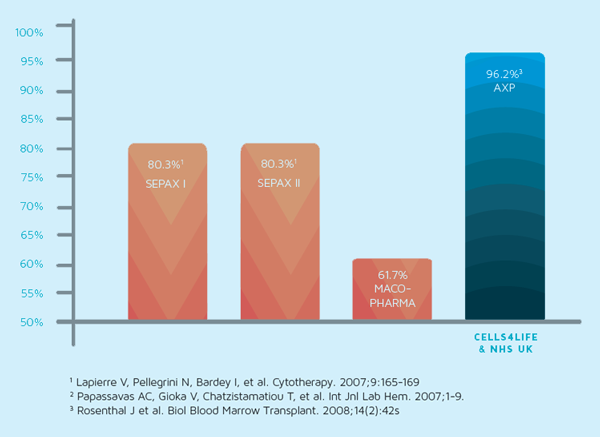 The Benefits of Volume-Reduced Cord Blood Storage
20% more HSCs than other volume-reduction methods
Cells4Life uses the state-of-the-art +Cell technology that ensures almost 20% more cells are retained than any other volume-reduction technology used by other umbilical cord stem cell storage providers in the GCC & UK.
MORE cells = MORE treatments
Storing the maximum numbers of HSCs means more access to future treatments and developments.
Lower cost option
Because the cord blood volume is greatly reduced, this offers the benefit of lower storage costs.
Used by the NHS, CBR & New York Cord Blood Bank
Cells4Life chose the AXP system for cord blood volume reduction because the available research has demonstrated its superiority. We only use the world's best technology and best practices when processing and storing the umbilical cord stem cells. The companies using the same technology are:
Cord Blood Registry (CBR) – the largest private cord blood bank in the US
New York Cord Blood Bank – the largest single public cord blood bank in the US
NHS – UK National Health Service
If you are considering volume-reduced cord blood storage, contact MedCells today!
Well informed and well organised team. Explains everything in detail and guides you through entire process. Keeps in touch through emails and regular updates. Keeps you informed about developments in the usage of Cord Blood and what Innovations or researchers are working on. One stop shop for Cord Blood info.
The process with Darryn and his team was so easy and flawless that when it came to collection it went of without a hitch. Highly recommend as the best company to go with.
Best investment and insurance for the family. Nobody should miss out on the opportunity to leverage the future potential of science. Stem cells already has great benefits now but there is surely more to come every year that lies ahead.
So happy we chose them to store our newborn at the time! Detailed information and support given before and after the collection; personalized follow-up letters and emails. The experience made us feel that our baby's u cord and stem cells are in safe and professional 'hands'.