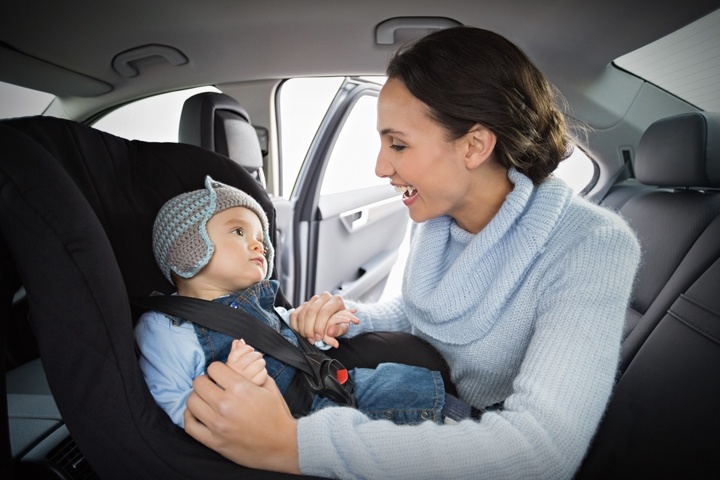 One of the most important purchasing decisions for first-time parents is the correct car seat for their child. There are some important technical issues you must keep in mind and the most expensive seat isn't always the best! Here are five useful tips for choosing a child car seat for new parents.
Buy a Combination Seat (Rear-facing and Front-facing)
Even though your child is more than 12 months old, experts suggest there is some benefit for continuing to use a rear-facing child seat. The American Academy of Paediatrics (AAP) now recommends that parents keep children in rear-facing car seats until the age of two, or until they exceed the weight or height limit for their first car seat. One study in the United States found that children under two are 75% less likely to be severely injured in a crash if they are in a rear-facing seat.
Front-facing seats make it much easier for parents to interact with their child, so they are inclined to get their child into a front-facing seat as soon as possible. However, for safety's sake, don't rush into it!
Consider buying a car seat that is a "combination seat" and can be used rear-facing as well as front-facing. Some combination seats can be used from birth to 6 years old, so you can avoid the cost of buying multiple types of seats. However, remember that car seats are designed for children under specific height and weight limits — always make sure your car seat is the right size for your child.
Buy a Seat You Find Easy to Install in Your Car
Depending on the model and age of your car, you may have to use a seatbelt to install a car seat or you may have the LATCH system (Lower Anchors and Tethers for Children system). There is no evidence that using the LATCH system or a seat belt will make your child safer. However, some parents find that installing a child seat with a seat belt is more difficult.
Before buying the car seat, consult your car user/owner manual to find out where the LATCH points are and assess how easily the car seat will install. Ideally your car will have a LATCH attachment in the middle position of the back seat — the safest location for a child's car seat.
____________
Read More:
How to Create a Cozy & Safe Nursery for Your Newborn Baby
Guidelines to Keeping Your Newborn in the Same Bedroom With You
Newborn Care: 6 Essential Tips for First Time Parents
____________
Install the Car Seat Correctly
It's important to note that while LATCH was designed to make the installation process simpler, many parents continue to install or use car seats incorrectly. A study by the Oregon Health and Science University found that from 267 families, 93 percent made a mistake when installing their car seat or putting their child in it (Oregon Health & Science University, 2015).
Common installation errors included:
Car safety seat installed too loosely
Angle of car seat incorrect
Safety belt used but not locked
Incorrect spacing between car safety seat and the front seat
Other common mistakes include not routing the seatbelt correctly, not putting the seatbelt in lock mode, using 'some' parts of the LATCH system plus the seatbelt and not putting enough weight on the car seat as it is installed.
Depending on the country you are in, you may be able to find a technician to help install your car seat for you. The United States has the National Child Passenger Safety Certification Training Program (CPS certification program), which certifies people as car seat installation instructors. The program has been exported to countries including Britain, Canada, Italy, Israel, Qatar and the United Arab Emirates. If you have CPS instructors in your country they can train you on car seat installation and give you some piece of mind.
Choose a Car Seat That is Easy to Clean
Once you strap your young child into the car seat, a messy accident is almost inevitable. At some point your child will vomit or sneeze and the car seat becomes a biological hazard! By choosing an easy-to-clean car seat you can keep everything hygienic.
Choose an Escape Proof Car Seat!
Some toddlers become very nimble with their fingers at a surprisingly young age. Choose a seat with a two piece clip so it is difficult for the child to undo any parts of the seat belt themselves.
Sources –
Oregon Health & Science University,. (2015). Study finds incorrect use of car seats widespread among parents taking newborns home from hospital. Retrieved 30 June 2015, from http://www.ohsu.edu/xd/about/news_events/news/2014/10-10-study-finds-incorrect-us.cfm{{cta('fc72df7e-0a72-4775-8f92-a60d7d716936')}}