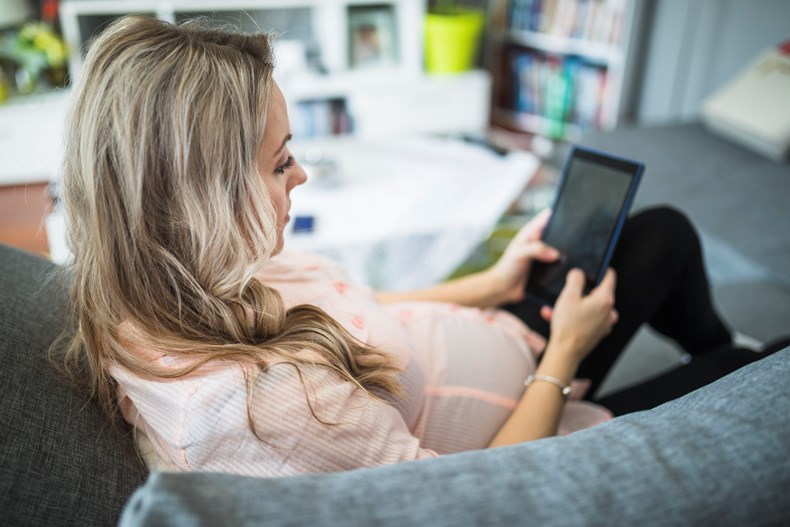 Pregnancy can be a stressful time, particularly if you are a first-time mum. Fortunately, in today's modern times, we can use online apps on our devices to help us manage and reduce stress, especially during pregnancy. There are useful apps that can help us keep track of what is going on and soothe away our anxieties. Let's take a look at 11 of the best apps for pregnant women.
Positive Pregnancy
This app helps you to deal with frayed nerves and a frazzled brain. It offers you calming tools and relaxation techniques that help change your perspective.
Check on iTunes | Check on Google Play
CineMama
If you have seen those pregnancy time-lapse videos and are keen to make your own, or just want to keep track of your progress during pregnancy then this is the app for you. It also offers you daily tips and a diary to record memories.
Check on iTunes | Check on Google Play
Full Term

This tracker app has a slightly different take on things and is focused around recording your contractions and labour. However, it does also feature a kick counter so you can record all of your babies kicks during pregnancy.
Check on iTunes | Check on Google Play
Noisli
When it comes to sleeping, this can be one of the most difficult things for mums-to-be. This app allows you to generate some soothing sounds, such as rainfall, wind, forest, leaves etc to aid with your sleep. You can even layer the sound for a unique soundscape.
Check on iTunes | Check on Google Play
_______________
Read More:
5 Unhealthy Habits Pregnant Women Should Avoid
7 Essential Beauty Tips for Pregnant Women
Best Steps to Prepare for Pregnancy
Top Foods to Eat During Pregnancy
_______________
Yoga Mama
During pregnancy, you naturally become more elastic due to the hormones released. Take advantage of this and use Yoga to help unwind. This app will take you through the basics of Yoga for new mums.
Pilates for Pregnancy – Complete
This app helps you to relax and strengthen your body at the same time. With workouts designed for each stage of your pregnancy. It also includes tracking tools such as to-do lists and a photo book, but the exercises are where it's at.
Insight Timer – Meditation Timer
Meditation is another great mindfulness tool to help you de-stress and unwind. This app offers you guided meditations as well as gentle sounds such as the singing bowl to last for a period you set.
Check on iTunes | Check on Google Play
The Mindfulness App
Whilst not specifically geared for expectant mums, this app has many useful mindfulness guides to help you unwind and deal with stress. It will allow you to focus on the moment and deal with problems.
Check on iTunes | Check on Google Play
Pacifica
This is a great mood-tracker app that can help keep you relaxed. Its name translates as peaceful in English and it aims to do just that. You can record all your thoughts in its diary feature.
Check on iTunes | Check on Google Play
Acupressure: Heal Yourself
This app features techniques for dealing with stress and anxiety by massaging certain pressure points around the body. This relies on the techniques of acupressure and teaches you all you need to know to be able to massage yourself.
Check on iTunes | Check on Google Play
Nature Sounds Relax and Sleep
Another app geared around helping you to sleep. This focuses on generating natural sounds including insects and birds as well as thunderstorms to sooth your mind into a gentle sleep.
{{cta('276b3c0a-80b6-4583-bfc8-ca65f8698ae0')}}