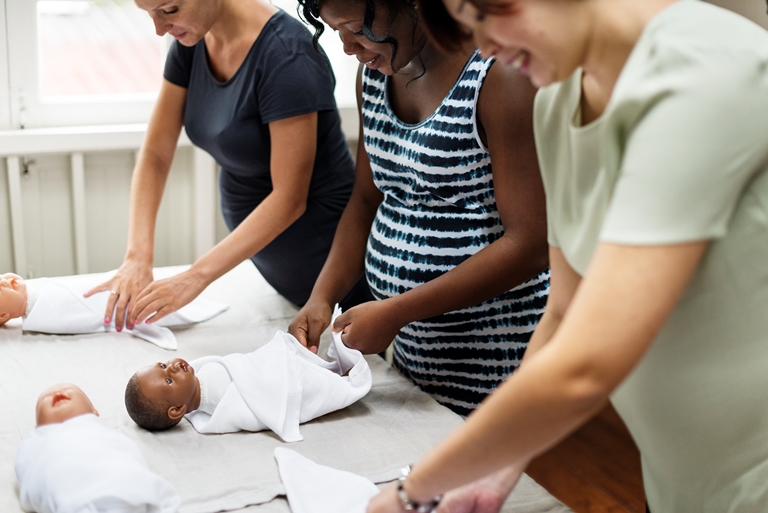 Antenatal classes can be a useful way for you and your partner to prepare for the birth of your child. There are a variety of antenatal classes available which focus on different aspects of preparing for the birth of your child.
Antenatal classes usually include the following topics:
Pregnancy health tips and nutrition tips
Understanding how your baby develops
Selecting where to give birth
Understanding the process of giving birth including possible complications
Relaxation techniques and breathing techniques
Understanding birthing interventions including induction of labour, caesarean section and epidurals
Newborn feeding and early stage newborn care
Where to seek help if you have questions about caring for your baby
Antenatal classes also known as childbirth classes are optional and parents must decide if they want to take these classes or not. To help you decide, we'll talk about the five key benefits of joining antenatal classes.
1. Meet New Friends
One of the major benefits of joining antenatal classes is that you will meet other expecting mothers. It will help you build a group of new friends who are going through the same experience as you. Antenatal classes can help you build a support network where you are able to share experiences, questions and complaints.
Some of the mothers attending the classes may already have a number of children. They will have a great deal of experience and can help you with any questions you may have.
2. Gain Knowledge about Pregnancy and Birth
Childbirth classes give expecting mothers a great deal of information and clear up many common questions about giving birth. You will gain an understanding of what will happen during labour and how your body will change throughout the process. Expecting mothers can also gain an understanding of the possible complications that may be experienced when giving birth and how they are resolved.
Medical terminologies will be explained, so you completely understand what the doctors and nurses are talking about during labour. Childbirth classes give you certainty about the procedures involved at the hospital and remove some of the mystery of child birth for new mothers.
You can also gain very useful knowledge from other more experienced mothers that you just can't get from reading pregnancy books. Experienced mothers have a great deal of knowledge about giving birth and most love to share their experiences with other expecting mothers.
3. Boost Your Confidence
One of the major benefits of joining antenatal classes is that they act as a confidence booster. As you gain a deeper understanding of what is involved in giving birth, you will feel more confident and relaxed about what is to come.
4. Become Closer With Your Spouse
Childbirth classes can help you gain a better level of intimacy with your spouse. Learning about your upcoming labour together is a bonding experience that can be very exciting.
If you attend the class together you can also bounce questions off one another to ensure you have a deep understanding of the whole process.
5. Healthier Outcomes
By joining antenatal classes and being more informed about the procedures and processes associated with childbirth, you can make better decisions that improve health outcomes. You will understand the risks and benefits associated with various procedures and the best way to deal with specific pregnancy complications.
Childbirth classes will also give you a thorough understanding of the best way to maintain good nutrition and health throughout your pregnancy. That leads to better health outcomes for both you and your baby.
Recommended Antenatal Classes in UAE:
Here are some of the best antenatal classes in the UAE you should check out.
Malaak Mama & Baby Care
Their up-to-date and evidence based antenatal classes are led by Cecile de Scally, one of UAE's leading maternity expert. She covers essential topics such as: staying Healthy during pregnancy, labour and birth, pain relief and intervention, welcoming your newborn baby. She also talks about postnatal care: feeding and sleeping basics. Check out their profile here
Babies and Beyond
They help you learn about the growing baby inside your belly and to help you prepare for the big day! Starting from 12 weeks, they talk about healthy pregnancy, what you should expect on your labour, birth and after birth. Check out their profile here
HealthBay Polyclinic
They aim to educate couples on what to expect throughout the pregnancy stage: labour, birth, and aftercare for both newborn and the mother. They also talk about healthy diet and safe exercises for pregnant women, as well as different kinds of birth and interventions. Check out their profile here
HypnoBirthing by Love Parenting UAE
They offer fun and interactive discussion about Hypnobirthing. Classes are designed to encourage participation of the Dads. They help pregnant couples prepare for a calm and natural birth. Check out their profile here
Parent Education Classes, Corniche Hospital, Abu Dhabi
They aim to educate pregnant couples to make informed decisions regarding pregnancy, birth, feeding and caring for their newborn baby as well as planning for unexpected events and complications with evidence based information. Learn more
Sources:
Baby Centre,. (2015). Antenatal classes. BabyCentre. Retrieved 10 August 2015, from http://www.babycentre.co.uk/a536329/antenatal-classes
Nhs.uk,. (2015). Antenatal classes – Pregnancy and baby guide – NHS Choices. Retrieved 10 August 2015, from http://www.nhs.uk/Conditions/pregnancy-and-baby/pages/antenatal-classes-pregnant.aspx
{{cta('bd560185-b131-47ba-aad0-b718036a8f76')}}